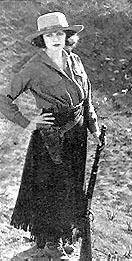 Anna M. Stewart (1895-1961) American Actress, Producer and Executive Producer. American silent screen star. Entered films with Vitagraph in Brooklyn at the age of sixteen. Romantically partnered on screen with Earle Williams. Had her own, short-lived production company with Louis B. Mayer around the time of her best-known film,
Virtuous Wives
(1918). Under contract with First National from 1919. Remained a major draw card with movie audiences throughout the 1920's. Retired in 1928 with the advent of sound as one of the wealthiest women in Hollywood. She had a heart attack and died.
Section heading
Edit
Write the first section of your page here.
Section heading
Edit
Write the second section of your page here.
Ad blocker interference detected!
Wikia is a free-to-use site that makes money from advertising. We have a modified experience for viewers using ad blockers

Wikia is not accessible if you've made further modifications. Remove the custom ad blocker rule(s) and the page will load as expected.