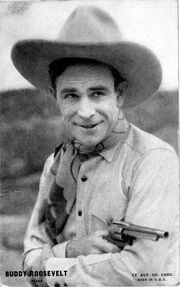 Kenneth Stanhope Sanderson (1898–1973). American Actor and Stuntman. Buddy Roosevelt was born on June 25, 1898 in Meeker, Colorado, USA as Kenneth Stanhope Sanderson. He died on October 6, 1973 in Meeker. Roosevelt was originally cast as The Cisco Kid in "In Old Arizona" (1928), but he broke his leg shortly before shooting was to start. He was replaced by Warner Baxter, who went on to win an Academy Award. A few years later Roosevelt was approached by producer Paul Malvern about starring in a series of low-budget westerns for Monogram. Apparently, however, Roosevelt's wife went behind his back and demanded more money than Malvern was willing to pay. Angered, Malvern turned instead to a young actor named John Wayne, who snapped up the offer. That string of Monogram "B" westerns started Wayne on the road to superstardom. Roosevelt continued grinding out low-rent westerns with steadily decreasing budgets, and finished up his career doing unbilled bit parts and stuntwork. Roosevelt served in the US Navy during World War I, and was aboard the USS Norfolk when it sunk. 
Section heading
Edit
Write the first section of your page here.
Section heading
Edit
Write the second section of your page here.
Ad blocker interference detected!
Wikia is a free-to-use site that makes money from advertising. We have a modified experience for viewers using ad blockers

Wikia is not accessible if you've made further modifications. Remove the custom ad blocker rule(s) and the page will load as expected.