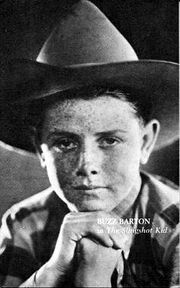 William Andrew Lamoreaux (1913-1980) American Horse Wrangler, Stuntman and Actor. During WW II Barton enlisted in the US Navy, and was a crewman aboard the USS Missouri when the Japanese signed surrender documents on that ship in 1945.
David "Red" Hepner
Edit
Western film series, starring Buzz Barton.
Section heading
Edit
Write the second section of your page here.
Ad blocker interference detected!
Wikia is a free-to-use site that makes money from advertising. We have a modified experience for viewers using ad blockers

Wikia is not accessible if you've made further modifications. Remove the custom ad blocker rule(s) and the page will load as expected.