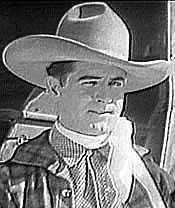 Harold William "Harry" McKechnie (1900 - 1979) He was born on August 22, 1900 at Sioux Ste., Marie, Ontario, Canada. He went to Los Angeles in 1925 where he found work as a director and stuntman. One of his early jobs was on the original Beau Geste in 1926. Being handsome and athletic, Harry was soon noticed by
Morris R. Schlank
, who starred him, billed as
Cheyenne Bill
, in seven of his Anchor Production Company westerns. All were shot on location in Kernville, California. Harry was introduced by a friend to his future wife, Ruby, who was working at radio station KMPC in Beverly Hills. They married on January 7, 1929. Te coming of sound declined the number of westerns being shot by Poverty-Row companies and Harry and Ruby moved to Alaska, where he found work as a diesel engineer. This work took him on government-assignments to China and the Philippines. In 1934, he went to Arizona to work on a dam project but soon moved back to Alaska, then back to Los Angeles and finally to Seattle Washington. He passed away in 1979, leaving his wife of fifty years, two children and three grandchildren.
Section heading
Edit
Write the first section of your page here.
Section heading
Edit
Write the second section of your page here.
Ad blocker interference detected!
Wikia is a free-to-use site that makes money from advertising. We have a modified experience for viewers using ad blockers

Wikia is not accessible if you've made further modifications. Remove the custom ad blocker rule(s) and the page will load as expected.