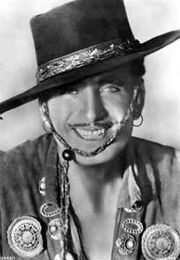 Douglas Elton Thomas Ullman (1883-1939) American Actor, Supervisor, Producer, Executive Producer, Writer and Director. Douglas Fairbanks was raised by his southern mother who had separated from his father, an attorney, when he was five. He began amateur theater at age 12 and continued while attending the Colorado School of Mines. In 1900 they moved to New York. He attended Harvard, traveled to Europe, worked on a cattle freighter, in a hardware store and as a clerk on Wall Street. He made his
Broadway
debut
in 1902 and five years later left theater to marry an industrialist's daughter. He returned when his father-in-law went broke the next year. In 1915 he went to Hollywood and worked under a reluctant
D.W. Griffith
. The following year he formed his own production company. During a Liberty Bond tour with
Charles Chaplin
he fell in love with
Mary Pickford
with whom he, Chaplin and Griffith had formed United Artists in 1919. He made very successful early social comedies, then highly popular swashbucklers during the 'twenties. The owners of Hollywood's Pickfair Mansion separated in 1933 and divorced in 1936. In March of that year he married an ex-chorus girl and retired from acting. He died of a heart attack on December 12, 1939 while he was living at Santa Monica, California. His portrayal of Zorro was the inspiration for the iconic DC Comics hero Batman.
Section heading
Edit
Write the first section of your page here.
Section heading
Edit
Write the second section of your page here.
Ad blocker interference detected!
Wikia is a free-to-use site that makes money from advertising. We have a modified experience for viewers using ad blockers

Wikia is not accessible if you've made further modifications. Remove the custom ad blocker rule(s) and the page will load as expected.