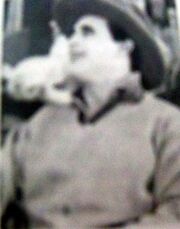 George Walsh (1889-1981). American Actor, Writer, Assistant Director and Director. Younger brother of director Raoul Walsh. Walsh was originally cast to play the title role in Ben-Hur: A Tale of the Christ (1925). An attempt at shooting the film in Italy resulted in disaster, mostly due to labor problems. The newly formed studio MGM agreed to re-shoot the film in America, but only if Walsh was replaced, along with original director Charles Brabin and adaptive writer June Mathis, who had been responsible for choosing both Walsh and Brabin. Walsh was replaced with Ramon Novarro but was not told and discovered it while still in Europe when co-star Francis X. Bushman read it to him from a newspaper headline. Walsh left acting in 1936 to manage his brother's increasing horse breeding and racing interests. Until the end of his life, the losing of the role of Ben-Hur was a sensitive subject of discussion for Walsh.
Section heading
Edit
Write the first section of your page here.
Section heading
Edit
Write the second section of your page here.
Ad blocker interference detected!
Wikia is a free-to-use site that makes money from advertising. We have a modified experience for viewers using ad blockers

Wikia is not accessible if you've made further modifications. Remove the custom ad blocker rule(s) and the page will load as expected.