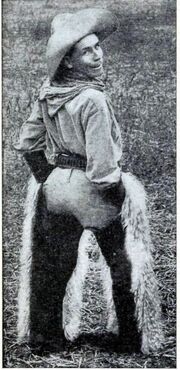 Augustus Carney (1870–1920) British Actor. British-born silent comedy star with extensive vaudeville experience. Appeared in Essanay shorts from 1910 with Victor Potel, as 'Hank and Lank'. He was featured on his own the following year as 'Alkali Ike', in his own 'Snakeville' comedy series. His resulting popularity led to excessive wage demands, which were not met by Essanay, nor by his next employer Universal. He quit, or was fired, in 1914 and only lasted another year or so, until his total disappearance from the screen.
Section heading
Edit
Write the first section of your page here.
Section heading
Edit
Write the second section of your page here.
Ad blocker interference detected!
Wikia is a free-to-use site that makes money from advertising. We have a modified experience for viewers using ad blockers

Wikia is not accessible if you've made further modifications. Remove the custom ad blocker rule(s) and the page will load as expected.