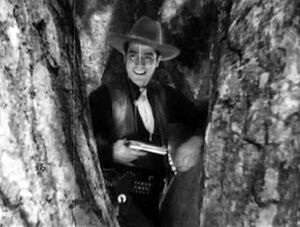 Gaspere Biondolillo (1902–1984) American Actor. Discovered on Broadway by director Howard Hawks, LaRue was originally brought to Hollywood to play a gangster in Scarface (1932). He lost that role to George Raft, and similarly was replaced by Humphrey Bogart in the film version of The Petrified Forest (1936). Eventually, he became well-known to movie-goers as a mean, sexy gangster type in sadistic roles like Miriam Hopkins' abductor in The Story of Temple Drake (1933). Film audiences, who loved to loathe him on-screen, were occasionally surprised by his being cast against type in such movies as A Farewell to Arms (1932). His final film was in the low-budget film Paesano: A Voice in the Night (1977).
Ad blocker interference detected!
Wikia is a free-to-use site that makes money from advertising. We have a modified experience for viewers using ad blockers

Wikia is not accessible if you've made further modifications. Remove the custom ad blocker rule(s) and the page will load as expected.