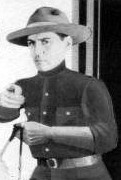 John E. Bowersox (1885–1936) American Actor. Began working in films from 1916, becoming a a star within five years of his debut. His frequent co-star was Marguerite de la Motte, whom he later married. The advent of sound effectively ended his career. Shortly after attending a party, the distraught 50-year-old Bowers committed suicide by rowing into the Pacific Ocean and drowning himself. It is commonly believed that his demise was the inspiration for the similar death of fictional film star Norman Maine in both the 1937 and 1954 versions of "A Star is Born." He was interested in yachting, aviation and writing.
Ad blocker interference detected!
Wikia is a free-to-use site that makes money from advertising. We have a modified experience for viewers using ad blockers

Wikia is not accessible if you've made further modifications. Remove the custom ad blocker rule(s) and the page will load as expected.