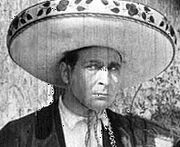 Paul Wolfgang Panzerbeiter (1872-1958) German Actor and Director. Born in Germany in 1872, Paul Panzer spent several years on the stage before entering the film industry with Edison in 1905. He later went to Vitagraph, one of the first actors to work at that studio, but left them in 1911. He directed one film,
The Life of Buffalo Bill
(1912), with the real Buffalo Bill Cody (
William F. Cody
)--for a small independent company, but returned to acting and worked, often uncredited, in that capacity for the next 40+ years, appearing in more than 350 films all told. He made his last film in 1952, and died in Hollywood in 1958.
Section heading
Edit
Write the first section of your page here.
Section heading
Edit
Write the second section of your page here.
Ad blocker interference detected!
Wikia is a free-to-use site that makes money from advertising. We have a modified experience for viewers using ad blockers

Wikia is not accessible if you've made further modifications. Remove the custom ad blocker rule(s) and the page will load as expected.