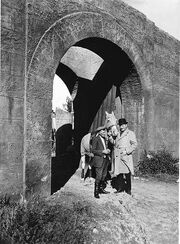 Reginald Leslie Baker (1884-1953) Australian Stuntman, Actor, Producer, Co-Producer and Technical Advisor. Known as one of Australia's greatest athletes, Baker represented a boxing company in Australia and worked with partner W.F. Howe and his wife who was very involved in the business. In 1908, he gained fame for boxing in the Olympic games which were held in London. Baker was also an expert swimmer and equestrian, performing stunts in 1944's
National Velvet
(1944) as well as teaching a young Elizabeth Taylor how to ride. He also trained actor Lash LaRue in the use of a bull whip. Prior to his illness, he had been active teaching polo to a number of film stars. Baker died from Cerebro-Vascular Disease he'd suffered for two years and his $10,000 estate was left to his wife, Ethel Rose Baker. He rode a horse named "Boomerang".
Alternate Names: Reg Baker | Rex Baker | Snowy Baker
Ad blocker interference detected!
Wikia is a free-to-use site that makes money from advertising. We have a modified experience for viewers using ad blockers

Wikia is not accessible if you've made further modifications. Remove the custom ad blocker rule(s) and the page will load as expected.