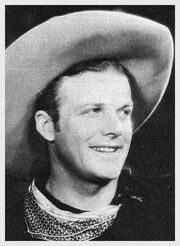 George Francis Beldam (1903 - 1962). American Actor and Lieutenant Governor of Nevada. Rex Bell was born on October 16, 1903 in Chicago, Illinois, USA wavy-haired Hollywood western star of the 1930's (at 20th Century Fox) who married the 'It Girl' Clara Bow and became Lieutenant Governor of Nevada. Bell and wife settled down at the Walking Box Ranch in Searchlight, Nevada, where they gave lavish parties to friends in the industry, including Clark Gable, Carole Lombard, Errol Flynn, Norma Shearer and Lionel Barrymore.
He was an actor, known for Broadway to Cheyenne (1932), Stormy Trails (1936) and The Idaho Kid (1936). He was married to Clara Bow. He died on July 4, 1962 in Las Vegas, Nevada, USA. Died of a Heart Attack shortly after attending a Fourth-of-July campaign kick-off event while running as the Republican candidate for Governor of Nevada in 1962. Father of actor Rex Bell Jr. (1934–2011).
Ad blocker interference detected!
Wikia is a free-to-use site that makes money from advertising. We have a modified experience for viewers using ad blockers

Wikia is not accessible if you've made further modifications. Remove the custom ad blocker rule(s) and the page will load as expected.