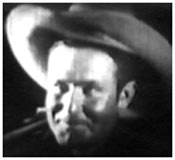 William T. Bay (1901–1933). American Actor and Stuntman. Tom Bay was born on February 22, 1901 in San Antonio, Texas, USA as William T. Bay. On October 11, 1933, he was involved in an argument with girlfriend Alta Lassert over his spending the night with another woman when she pulled a pistol and shot him three times in the chest. He died instantly. She then turned the gun on herself and fired twice, but her wounds weren't life-threatening and she recovered. She was charged with murder, but there are no records existing showing the outcome of the trial.  A police detective named Jack Huddleston maintained a personal scrapbook of photographs of dead bodies and crime scenes which contained two photographs of Bay's crumpled body. The handwritten caption read "Tom Bay Movie Cowboy killed by his girl friend, Burbank, Cal (Ex Con)." The scrapbook was published in 1996 under the title "Death Scenes: A Homicide Detective's Scrapbook."
Alternate Names: Tommy Bay
Ad blocker interference detected!
Wikia is a free-to-use site that makes money from advertising. We have a modified experience for viewers using ad blockers

Wikia is not accessible if you've made further modifications. Remove the custom ad blocker rule(s) and the page will load as expected.