William Haines
(1900–1973)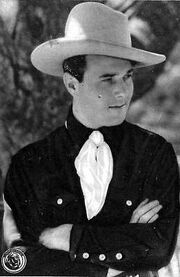 Born in Staunton, Virginia, William Haines ran off to live life on his own terms while still in his teens, moving to New York City and becoming friends with such later Hollywood luminaries as designer
Orry-Kelly
and
Cary Grant
. His film career started slowly, but by the end of the silent era he was regularly named as the #1 male box-office draw. He also became fast friends with a number of contemporaries, such as
Joan Crawford
and
Marion Davies
, whose fame would eclipse his. His career faded rapidly in the early 1930s, and he was finally released allegedly due to a fight with MGM mogul
Louis B. Mayer
over Haines' refusal to end his relationship with his lover, Jimmie Shields. However, as his film career ended, his interior design career blossomed, resulting in major work for
Jack L. Warner
and the Bloomingdales, and culminating in the refurbishing of the American ambassador's residence in London, England. Although Haines was quite open about his homosexuality and entertained many of Hollywood's gay set - including
George Cukor
and
Clifton Webb
- his story is missing from many histories of the era. Haines and Shields remained a couple for 50 years; Crawford called them "the happiest married couple in Hollywood.
Ad blocker interference detected!
Wikia is a free-to-use site that makes money from advertising. We have a modified experience for viewers using ad blockers

Wikia is not accessible if you've made further modifications. Remove the custom ad blocker rule(s) and the page will load as expected.